High-Performance Instruments Developed by Experts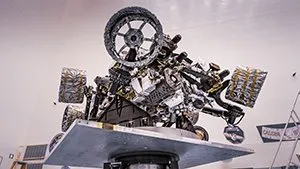 Raptor Scientific offers an extensive range of products and services for developers of high-performance aerospace, defense, space, marine, and commercial/industrial products. Our products are developed with the highest accuracy and exceptional product reliability.
Our research and design efforts continue to advance the state of the art in the areas in which we work. We look forward to helping you to solve your test and measurement issues.
In aerospace and defense, no project involving spacecraft or projectiles can move forward without consistency and confidence in measurements. Other demanding industries like automotive, medical and sporting goods must develop their products with precision in every point of data. We're proud to fulfill these needs for organizations worldwide, every day.
Raptor Scientific offers our own extensive range of Mass Properties Measurement Instruments and Igniter Circuit Testers for developers of high-performance aerospace, defense and automotive systems who have to prove their designs will perform as required.
Highest Accuracy: Raptor Scientific sets the standard for the most accurate measurement of Center of Gravity, Moments of Inertia and Products of Inertia.
Safety is Paramount: Our Single and Multi-Channel Igniter Circuit Testers feature a unique approach to safety. Redundant circuits and mechanisms that guarantee test current remains several orders of magnitude below ignition levels.
Groundbreaking Solutions: We are so much more than measurement systems. For example, our Precision Gas Bearings allow friction-free rotation, ideal for satellite attitude control system testing in a simulated space environment.
Exceptional Product Reliability: Our instruments routinely operate fault free for 20 years or more. We maintain and upgrade our equipment regardless of its age.
Demonstrated Customer Satisfaction: Since 1959, we have built our reputation on being totally responsive to our customers' issues and concerns. The result is a 100% customer retention rate.
Browse our selection and view design specifications, then submit a quote request for the type of instrument that works for you.