News & Updates from Raptor Scientific
June 2022
Mass Properties for the Masses
Mass properties dictate how an object moves in its environment as well as the forces required to control that motion. Understanding the mass properties of satellites and aircraft structures is critical to mission success and extending that understanding to other objects can be just as important.
Raptor Scientific offers products and services to measure Weight, Center of Gravity, Moment of Inertia, and Product of Inertia for a wide range of objects such as helmets, golf balls and clubs, steering wheels, drive shafts, medical tools, disc drive heads, drones, propellers, electronic circuit boxes, and many other objects.
Raptor Scientific offers solutions that cover a wide range of items, with several levels of measurement accuracy to meet your requirements. For the most demanding missions, our instruments are unmatched in overall performance. Raptor Scientific has over 60 years of experience providing solutions to unique mass properties measurement needs and can offer consultation services as well.
ADC Series Air Data Calibrators – The Benefits of Automation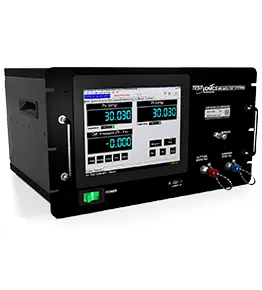 Air Data Calibrator (ADC) Series capabilities have come a long way since their initial release in 2007. The original ADC-2500 provided fully automated calibration and pre-calibration testing for the TTU-205J Pressure-Temperature Test Set. When the calibrator was introduced, a USAF cost-benefit analysis estimated the software cut labor costs by nearly 80%.
Our latest calibrator, the ADC-2500V3, can automatically calibrate and test other flightline test sets; such as the ADTS405F, ADTS415F, DPS500, TS-4508/U, TS-4463/P, DPS500NG, ADTS-3350ER, ADTS-3300JS, ADTS-3150, ADTS-1575, ADTS-1555. Technicians and operators can also create custom Test Programs with test sequences, which automate the testing of various air data equipment, gauges, instrumentation, and more.
The ability to test and calibrate assets automatically, can lower support costs, and decrease labor-intensive test processes which also help to decrease or eliminate the margin of error introduced with manual testing. On top of that, manual test routines can be run unattended, allowing operators and technicians to perform other tasks while testing.
The ADC-2500V3 features both an RS-232 (DB9) and IEEE-488.2 GPIB interfaces, which allow the calibrator to also be operated remotely for use with Automated Test Equipment (ATE) using Standard Communications protocols.
The ADC Series are industry-leading high-accuracy air data (pitot static) calibrators capable of controlling and measuring pressure to the highest degree of accuracy. The control and measurement range of the test system meets or exceeds most requirements for commercial and military test applications. Our calibrators have a proven history of long-term stability, accuracy, reliability, and performance.
InfiniScan Handheld Unit
The InfiniScan system is a man-portable radar imaging tool that revolutionizes the way that RCS measurements are performed. Because this system is man-portable the aperture formation, which is needed to produce an image from the measurement, is not bound to or limited by any mechanical structure. Therefore, the contour and number of paths that may potentially be formed by this tool are "infinite".