Raptor Scientifics is launching a new version of our gimbal balance software to add several features designed to make gimbal balancing easier and faster. In the past, 3-axis gimbal balance software required two of the axes to be collinear in order to measure and balance a gimbal in a single set-up. Non-collinear 3-axis gimbals required multiple mounting configurations for measurement. With new features, Raptor Scientifics gimbal balance software allows unbalance measurement and correction about and along the roll, pitch, and yaw axes in a single set-up, removing the collinear axis requirement. In addition, our Weight Correction Software now allows flexibility for users to customize their own ballast weight and locations for a supported gimbal type. Variations in gimbal design can now utilize the same Weight Correction Software with minor adjustments to accommodate changes to weight increments or ballast mounting locations. Weight Correction Software can be combined with controlled gimbal positioning to create a fully automated measurement and balance process.Balancing time can be reduced from a 4 to 8-hour manual process to under 30 minutes, greatly increasing your throughput. Furthermore, saving time is not the only benefit. Our automated process reduces risks associated with repeated handling of valuable gimbal hardware.

These advancements in gimbal balancing provide unique capability for any gimbal balance measurement service or for your Raptor Scientifics gimbal balance instrument.

Call us today for more information regarding our gimbal balance software and instrument capabilities. (860) 829-0001.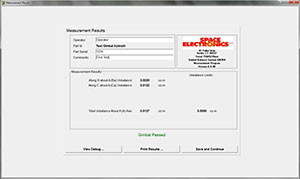 Gimbal Balance Software Output
Click Here to Contact Us for Information about our Mass Properties Solutions
---
Recent Business Activity
Model MW900 Moment Weight Instrument – turbine blades
Model SE9832A Tilt Translation Table – satellites
Model 101-SQB-RAK Igniter Circuit Testers
Gimbal Measurement and Balancing Services
Model 101-5HJ-NAV Igniter Circuit Testers